Powerstroke Truck Rim Swapping Guide
Last Modified : Mar 30, 2021
If you own an older Ford SuperDuty truck, I bet at one point or another you have thought about swapping to newer trucks rims. All the rims from 1999 till 2008 can be swapped around with only slight modification to the truck - by using a wheel adapter. Wheel adapters have come up with a bad name in the community, so we are going to explain how to safely do this swap.
The first thing that should be noted is that all the rims on F250 - F350 single or dual rear wheels between the years of 1999 to 2017 use a 8 * 170mm lug pattern on a hub centric rim. There is one extremely important distinction here - the fact that these rims are HUB CENTRIC. Remember that word. That means that the center portion of the wheel hub centers the wheel but it also helps support some weight of the truck. A hub centric wheel generally uses lug nuts with flat washers, although sometimes you do see tapered applications.
A lug centric rim relies solely on the lug nuts to center and support the weight of the vehicle. In the case of these heavy SuperDuty trucks, never mount a lug centric wheel or adapter to the vehicle. The studs will likely fail causing the wheel to separate from the vehicle.
There are a few differences between the rims spanning the years of 1999 to 2017. In 2004, Ford changed the Superduty wheel stud thread pitch FROM 14MM x 2.0mm TO 14MM x 1.5mm. The other more notable difference is the offset of the wheel. The wheel offset was modified in the 2005 model year to accompany coil springs and a shorter turn radius. You can not directly mount a 2005 + rim to a 1999 - 2003 truck because the rim will sit exactly 2 inches too far inward which allows the tire to rub when turning and decreases vehicle stability. The solution to this issue is purchasing wheel adapters / spacer that replaces the offset to sit the tire assembly where it was originally. This also solves any issues of extreme wear on suspension parts like ball joints. Remember that word I told you to remember, HUB CENTRIC? You must purchase hub centric adapters or you may be endangering yourself or others.
The Ford Superduty wheel adapters are sold in pairs. The front wheel adapters are different from the real wheel adapters. I did a lot of research. The community recommends steel adapters but those are very expensive and often must be custom made. If you purchase the correct adapter, aluminum will not be an issue for you. I only found a few select manufacturers selling proper hub centric wheel adapters. They are easy to tell apart even by looking at a photo. Below I have included two links to wheel adapters I have personally used and inspected for proper fit. If you check out those adapters you will notice in the picture that you can see a "raised" portion protruding from the center by about a half inch. This is hub centric extension that the rim rides on. Be sure that any adapter you buy has this feature, otherwise, it is not a hub centric adapter.
Front Hub Centric Wheel Adapter Ford 8x170mm Pair.
2021 Update: These hub adapters used to be sold as a front pair and rear pair; now listed on Amazon as front only. It does not appear there is a Rear set available anymore, however I saw no difference in the front/rear pair. Unfortunately I don't think these are made by the same company that made the original set I had my hands on.
You will notice that the hub centric Ford Superduty adapters are about three times more expensive than their lug centric counterparts. I suspect most of the people who have problems with using aluminum spacers is because they did not get hub centric adapters and instead opted for cheaper spacers. I told you that word would be very important.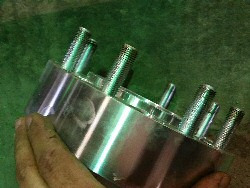 Remember the early 1999 F250 - F350 trucks up to 2003 used more course threaded lug nuts with a size of 14MM x 2.0mm. What you will need to do is include a special order message for the seller on Amazon to include the correct lug nuts used for attaching the spacer to the vehicle or buy them seperately. In my case, I wasn't aware of this issue at the time of testing these. I managed to call the seller after the fact and order the correct acorn lug nut. The acorn nut is required to fit down into the machined holes of the spacer. The next thing you will need is new lug nuts to attach the wheel to your adapter since these studs are also the fine threaded version. All you have to do is purchase new lug nuts for a newer truck.
I have included a few pictures to explain the installation.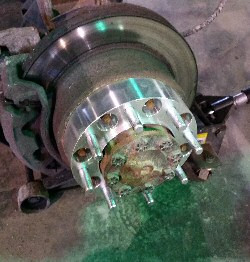 The first picture slightly above on your left clearly shows the hub centric ring protruding from the center of the 2 inch wheel adapter spacer. I can not stress how important it is to buy a wheel adapter spacer that is purposely built for use on hub centric Ford Superduty wheels. There is no other safe way to correctly mount factory Ford Superduty rims onto a factory Ford wheel hub. Your safety should be the most important factor when choosing rim styles.
By the way, if you did not already know, you can right click on these images then choose to open up a new window with a bigger image for better clarity.
The second picture shows the 2 inch wheel adapter spacer mounted securely on the vehicle. This step is rather easy. You just remove your old wheel assembly and use a wire wheel or wire brush to clean the front of your hub and rotor for flush mounting. Then slip on your 2 inch wheel adapter and start all of the included lug nuts onto the vehicle studs. You should tighten these to factory specifications, 140 ft.lbs. It would be wise to check these after a few hundred miles.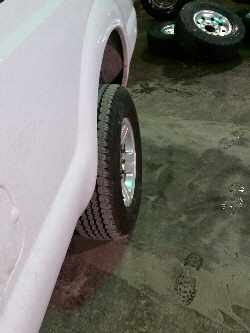 The last two pictures show the newer factory Ford rims mounted on a older truck. The picture on the left shows that the rims do not stick inward awkwardly or outward awkwardly which is our goal with the 2 inch adapter spacer. This particular setup is a 2006 F350 Superduty 18inch wheel and tire mounted to a Early 1999 F250 Superduty. Essentially, these spacers put the wheel exactly in line where it used to be located at.
If you are wondering about the bed of the truck, it has had a brand new takeoff bed from a 2013 swapped in as a replacement for the old rusted out bed that was on it before. You should read about how I turned my old early 99 work trucking into something more appealing by reading SuperDuty Restoration over in TechTales blog.
I hope this article has effectively eliminated potential problems you may have encountered with using a non hub centric adapter spacer to mount newer Ford Superduty truck tire and wheel assemblies to your older Ford Superduty truck model.